< BACK TO PRESS PAGE
Selkirk Sport and CityPickle Announce Partnership to Fuel Pickleball Growth in New York
June 22, 2023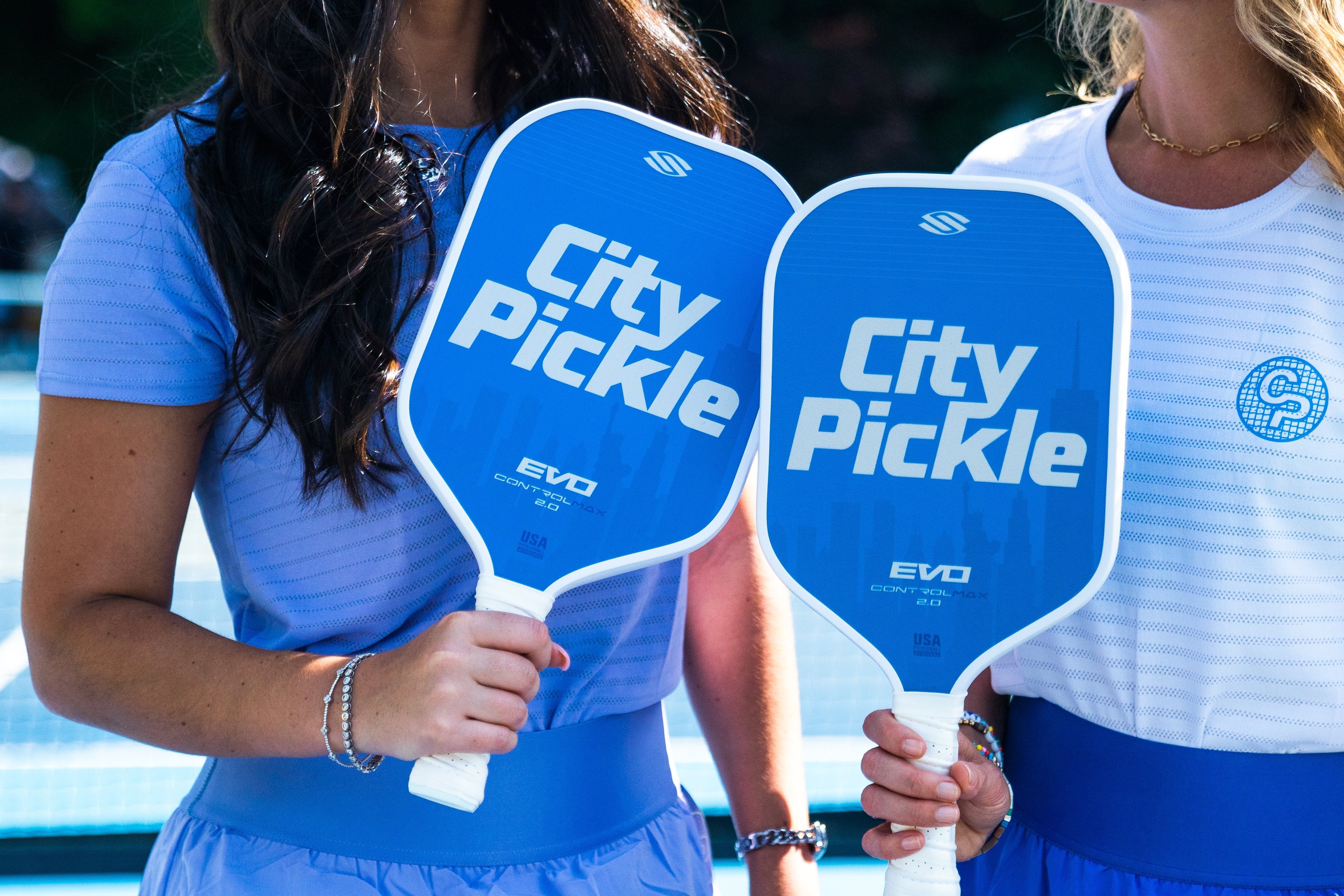 Selkirk and CityPickle team up to create a co-branded paddle and offer inclusive events at CityPickle Wollman Rink in Central Park.
New York City, June 22, 2023 — Selkirk Sport, the leading pickleball brand and paddle manufacturer, is thrilled to announce a partnership with CityPickle, New York City's premier pickleball club. 
Fueled by a mutual goal of fostering the growth of pickleball at all levels of play, the partnership aims to elevate the sport's presence and further cultivate a vibrant, inclusive pickleball community in New York. 
As part of the collaboration, Selkirk Sport and CityPickle will introduce a co-branded limited-edition pickleball paddle. Based on Selkirk's new EVO 2.0 paddle line, the co-branded paddle is USA Pickleball-approved and showcases the New York City skyline on the paddle face. 
Selkirk Sport was also named the official pickleball partner of CityPickle at the renowned Wollman Rink for the remainder of the 2023 season. Aside from renting one of the venue's 14 courts, guests can attend clinics, participate in open play and even host a cabana party in which they may enjoy food and drinks from Great Performances, one of NYC's premier catering companies, in their own courtside lounge.
Events powered by Selkirk Sport at the historic Central Park venue will offer pickleball players access to top-of-the-line equipment and paddles, including the co-branded paddle. 
\"We are thrilled to partner with CityPickle and contribute to the growth of pickleball in New York," said Mike Barnes, Co-CEO and Co-Founder of Selkirk Sport. "This collaboration aligns perfectly with our mission of creating exceptional products and experiences that inspire and empower pickleball enthusiasts. We look forward to working closely with CityPickle to bring the joy of pickleball to even more New Yorkers." 
Committed to removing barriers to the sport, CityPickle offers community play, where players of all skill levels are encouraged to face off against other community members at a reduced cost. The $5 entry fee includes an hour of open play and a paddle rental, allowing everyone to enjoy the sport with top-notch equipment, including the new co-branded paddle. 
"We're delighted to partner with best-in-class Selkirk to ensure the highest quality pickleball paddles and equipment are available to all players at CityPickle," said CityPickle Co-founders Mary Cannon and Erica Desai. "With our commitment to making pickleball accessible to as many New Yorkers as possible, it's our priority to make sure participants of our community play and nonprofit partners have the tools they need to fully embrace this fun sport." 
To enhance the expertise of its team, CityPickle employees will receive specialized training from a professional pickleball coach, powered by Selkirk Sport. The training will equip CityPickle staff members with the necessary knowledge to provide further exceptional guidance and support to its visitors. 
The co-branded paddle is available for rental and purchase at CityPickle Wollman Rink. 
About Selkirk Sport
Selkirk Sport, a made-in-the-USA manufacturer of pickleball paddles and accessories, is a family-owned and operated company. Selkirk Sport is based in Hayden, Idaho, in the shadows of its namesake, the Selkirk mountain range. Founded in 2014, Selkirk Sport was born from a passion for sport and the great Western outdoor leisure lifestyle that was afforded to the company's founders, Rob and Mike Barnes, along with their father Jim, who is Selkirk's production manager. Backed by the philosophy of always pushing the limits, Selkirk Sport is committed to manufacturing products that deliver the highest performance with unmatched quality and service. As part of its early success, Selkirk Sport was the first pickleball manufacturer to offer an unprecedented lifetime warranty on its high-performance products. To meet the demands of the game's premier professionals, the company developed low-profile edge guards that are lightweight and extremely durable. Selkirk Sport has become one of the industry's fastest-growing companies, with paddles used by many of the game's premier players, such as Tyson McGuffin, Catherine Parenteau, Parris Todd, Dylan Frazier, Mary Brascia, Maggie Brascia, Wesley Gabrielsen, Cammy MacGregor, and a host of others premier players and national/regional champions. 
About CityPickle
CityPickle is New York City's home for the country's fastest-growing sport. As the first indoor pickleball club in the city, CityPickle will combine climate-controlled courts with a full bar and restaurant, making it the ideal indoor destination to connect and spend quality time with friends, family and colleagues alike. CityPickle's first permanent location launches in Summer 2023 in Long Island City following the launch of CityPickle at Wollman Rink. CityPickle was previously activated at both Hudson Yards and TWA Hotel in Fall of 2022.