< BACK TO PRESS PAGE
Selkirk Sport unveils game-changing Pro S1 Pickleball
November 15, 2023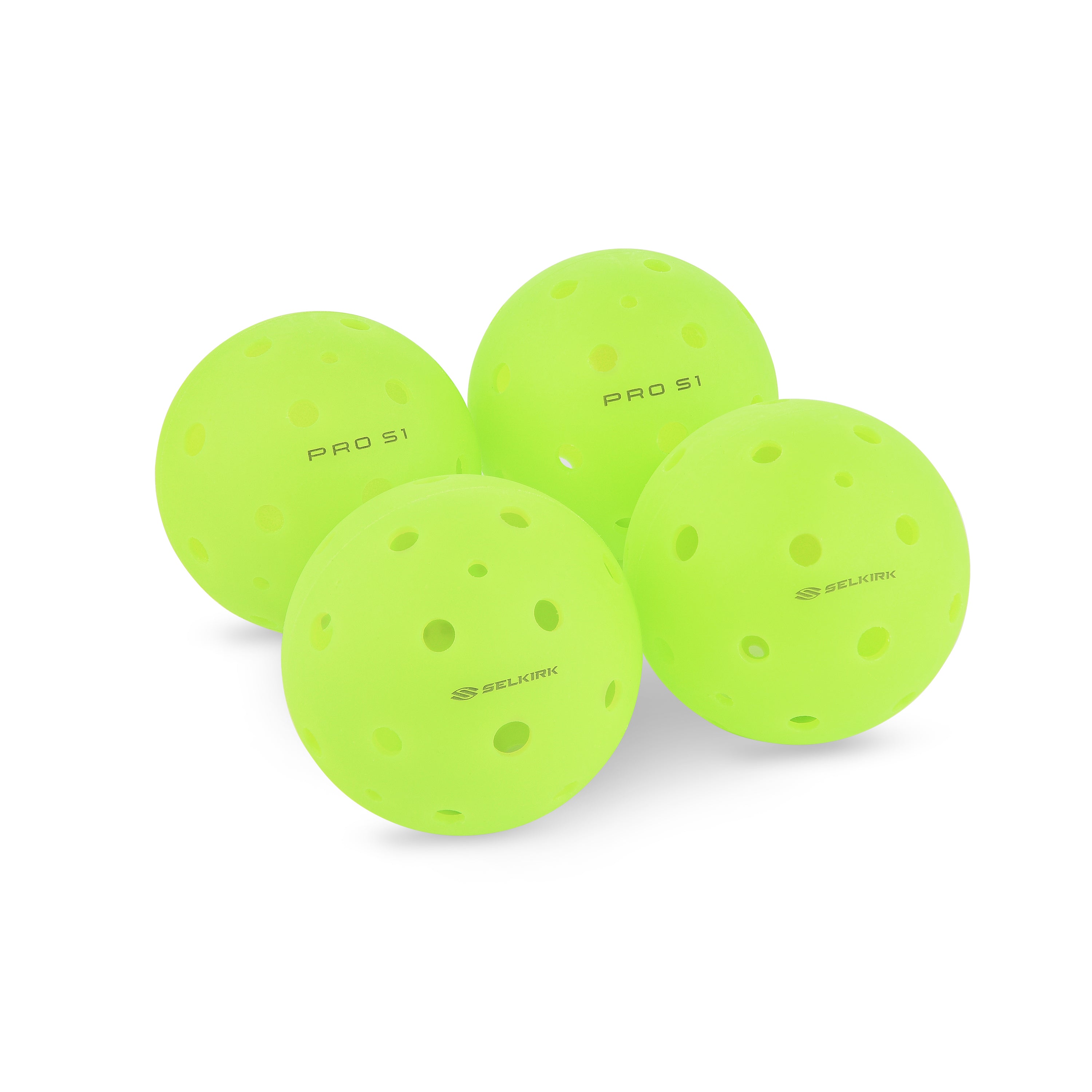 COEUR D'ALENE, IDAHO, Nov. 15, 2023 — Selkirk Sport, a leading innovator in the world of pickleball, is proud to announce the launch of its revolutionary Pro S1 Pickleball.
While pickleball paddle technology has seen continuous evolution in recent years, ball technology has remained relatively stagnant — until now. 
After years of extensive research and development, Selkirk Sport is introducing the Pro S1 Pickleball, designed to transform the way the game is played by offering players a consistent flight path, predictable bounce and unrivaled durability.
"In any sport, the ball is one of the most critical factors that can influence the outcome," said Rob Barnes, Co-Founder and Co-CEO of Selkirk Sport. "With the Pro S1 Pickleball, we are taking a giant leap forward in pickleball ball technology. Our aim is to help players of all skill levels elevate their playstyle and have a more consistent and enjoyable experience on the court."
Designed to outperform 
The Pro S1 Pickleball boasts an advanced aerodynamic design with its patented 38-hole pattern, setting it apart from other pickleballs on the market. The unique pattern was meticulously crafted to ensure a consistent flight path on every shot, regardless of the spin, velocity or angle. The seamless construction gives players added finesse, coupled with increased speed and spin. 
Unprecedented durability 
The Pro S1 Pickleball uses rotomolding technology to deliver a perfectly round ball, designed to keep its shape and last longer than other pickleballs. 
To underline the confidence in the Pro S1 Pickleball's durability, Selkirk Sport is offering an industry-first one-year no-crack warranty on the ball. This warranty reflects Selkirk's commitment to delivering the most reliable products to pickleball enthusiasts.
"We understand that players not only seek exceptional performance but also desire pickleball balls with a longer shelf life," Barnes said. "With the Pro S1 Pickleball, we've addressed this concern by delivering a ball that combines durability with precision, ensuring that players can focus on their game rather than worrying about replacing balls regularly."
Competitive pricing 
The Pro S1 Pickleball is available for purchase at the retail price of $15 for a four-pack, $35 for a 12-pack and $250 for a 100-pack. Pickleball players can now experience the future of the game with the Pro S1, available at select retailers and on the Selkirk Sport website.
About Selkirk Sport
Selkirk Sport, a made-in-the-USA manufacturer of pickleball paddles and accessories, is a family-owned and operated company. Selkirk Sport is based in Hayden, Idaho, in the shadows of its namesake, the Selkirk mountain range. Founded in 2014, Selkirk Sport was born from a passion for sport and the Western outdoor leisure lifestyle that was afforded to the company's founders, Rob and Mike Barnes, along with their father Jim, who is Selkirk's production manager. Backed by the philosophy of always pushing the limits, Selkirk Sport is committed to manufacturing products that deliver the highest performance with unmatched quality and service. Selkirk Sport has become one of the industry's fastest-growing companies, with paddles used by many of the game's premier players, such as Jack Sock, Catherine Parenteau, Parris Todd, Dylan Frazier, Mary Brascia, Maggie Brascia, James Ignatowich and a host of others premier players and national/regional champions.
Media Contact:
Kyle Whatnall
Public Relations Manager
Brynn Grissom
Public Relations Associate