How to Choose Your Perfect Pickleball Paddle: 10 Key Factors
---
on Oct 18, 2022
Overall best paddle for Tennis Players, Power, and Spin
The Ultimate Power and Spin Paddle, the Power Air is the preferred paddle of former tennis player and current top pickleball pro, Catherine Parenteau. The most Aerodynamic Paddle we have produced, this edgeless design and ProSpin+ Texture gives you the effortless spin and power tennis players are accustomed to. And perhaps most importantly, the spin won't wear off after a month of play!

The Best Pickleball Paddles for:
Best paddle for Beginners
Similar to the Power Air, but without the air dynamic throat, the SLK Omega Max is the power and spin paddle for the everyday player. If you affordability is the bottom line for you, the SLK Latittude is another affordable option at 59.99.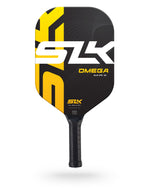 SLK Omega Max
$140
Best paddle for Control
Control Paddles are often refered to as having a "soft feel" and are ideal for players who value ball placement. The Vanguard 2.0 Paddles have insane touch, and the improved 2.0 texture improves the spin capability of the paddle. Also, check out the AMPED Invikta which will have slightly more power and is $150. And the Project 003 paddleis the thickest core on the market at 20mm and is the ultimate control and spin paddle (The 003 is only available to Selkirk Labs Members).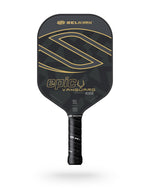 Vanguard 2.0
$200
Overall best paddle for Tennis Players, Power, and Spin

The Ultimate Power and Spin Paddle, the Power Air is the preferred paddle of former tennis player and current top pickleball pro, Catherine Parenteau. The most Aerodynamic Paddle we have produced, this edgeless design and ProSpin+ Texture gives you the effortless spin and power tennis players are accustomed to. And perhaps most importantly, the spin won't wear off after a month of play!

The Best Pickleball Paddles for:

Best paddle for Beginners

Similar to the Power Air, but without the air dynamic throat, the SLK Omega Max is the power and spin paddle for the everyday player. If you affordability is the bottom line for you, the SLK Latittude is another affordable option at 59.99.

SLK Omega Max

$140

Best paddle for Control

Control Paddles are often refered to as having a "soft feel" and are ideal for players who value ball placement. The Vanguard 2.0 Paddles have insane touch, and the improved 2.0 texture improves the spin capability of the paddle. Also, check out the AMPED Invikta which will have slightly more power and is $150. And the Project 003 paddleis the thickest core on the market at 20mm and is the ultimate control and spin paddle (The 003 is only available to Selkirk Labs Members).

Vanguard 2.0

$200