< BACK TO PRESS PAGE
Selkirk Sport Steps Into Footwear; Introduces the S01 Pro Court Shoe and S02 Premium Court Shoe
June 20, 2023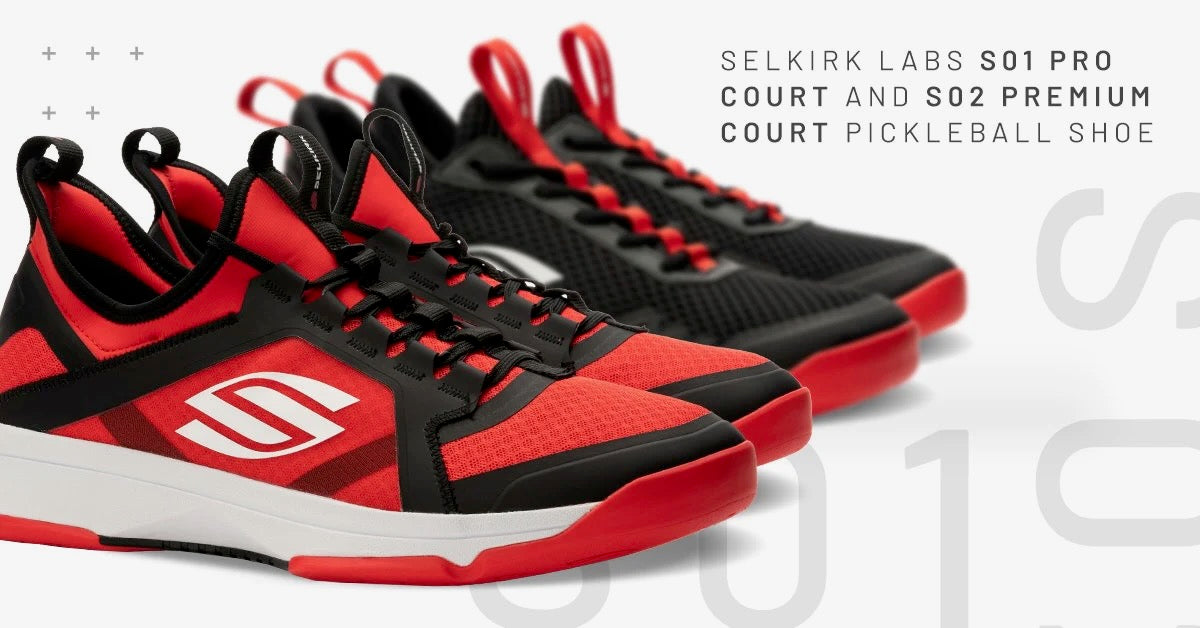 Selkirk Sport breaks ground with its first footwear offerings designed specifically for pickleball.
Coeur d'Alene, ID – June 15, 2023 – Selkirk Sport, the leading brand in pickleball equipment, is expanding its product range by launching the S01 Pro Court Shoe and S02 Premium Court Shoe. The announcement marks a significant milestone in the industry as Selkirk is the first pickleball paddle manufacturer to venture into footwear.
The S01 Pro Court Shoe, the first shoe introduced by Selkirk Labs, sets a new standard for comfort and performance. The shoe is designed from the sole up to be lightweight and ultra-durable, enabling faster movement on the court. Key features include a unique ladder lacing system, high breathability fabric and an extended sole wrap for increased durability in the pickleball drag zones.
"With the S01 Pro Court Shoe, we've incorporated lifted heel geometry for enhanced acceleration and an external stability wrap for optimal fit and control," said Rob Barnes, Co-Founder and Co-CEO of Selkirk Sport. "Our research and design team has worked tirelessly to ensure this shoe meets the highest performance standards while ensuring player comfort."
Alongside the S01, Selkirk Sport is launching the S02 Premium Court Shoe, designed to be a reliable and high-performing ally on the pickleball court. Its design focuses on providing the perfect balance between speed and stability, and features a reinforced toe box, an aerated midsole for feather-light comfort and a durable rubber outsole to withstand hard court abrasion.
"The S02 Premium Court Shoe is made for players who demand the best from their gear," Barnes added. "We've equipped it with features like a wide toe box area for a better pickleball fit and an ergonomic outsole flex plate, ensuring the entire outsole system works in favor of the player."
Both shoes are now available, with the Pro Court Shoe debuting in a bold red colorway, and the S02 Premium Court Shoe in a sleek black.
With this bold step into footwear, Selkirk Sport continues to lead the pickleball industry, focusing on enhancing player performance and the overall experience of the sport. For more information about the new S01 Pro Court Shoe and S02 Premium Court Shoe, visit selkirklabs.com.
About Selkirk Sport
Selkirk Sport, a made-in-the-USA manufacturer of pickleball paddles and accessories, is a family-owned and operated company. Selkirk Sport is based in Hayden, Idaho, in the shadows of its namesake, the Selkirk mountain range. Founded in 2014, Selkirk Sport was born from a passion for sport and the great Western outdoor leisure lifestyle that was afforded to the company's founders, Rob and Mike Barnes, along with their father Jim, who is Selkirk's production manager. Backed by the philosophy of always pushing the limits, Selkirk Sport is committed to manufacturing products that deliver the highest performance with unmatched quality and service. As part of its early success, Selkirk Sport was the first pickleball manufacturer to offer an unprecedented lifetime warranty on its high-performance products. To meet the demands of the game's premier professionals, the company developed low-profile edge guards that are lightweight and extremely durable. Selkirk Sport has become one of the industry's fastest-growing companies, with paddles used by many of the game's premier players, such as Tyson McGuffin, Parris Todd, Dylan Frazier, Mary Brascia, Maggie Brascia, Wesley Gabrielsen, Cammy MacGregor, and a host of others premier players and national/regional champions.