< BACK TO PRESS PAGE
Selkirk Sport Becomes Presenting Sponsor for Professional Pickleball Association (PPA) Tournaments on the CBS Television Network, Paramount+ and CBS Sports Network
July 11, 2023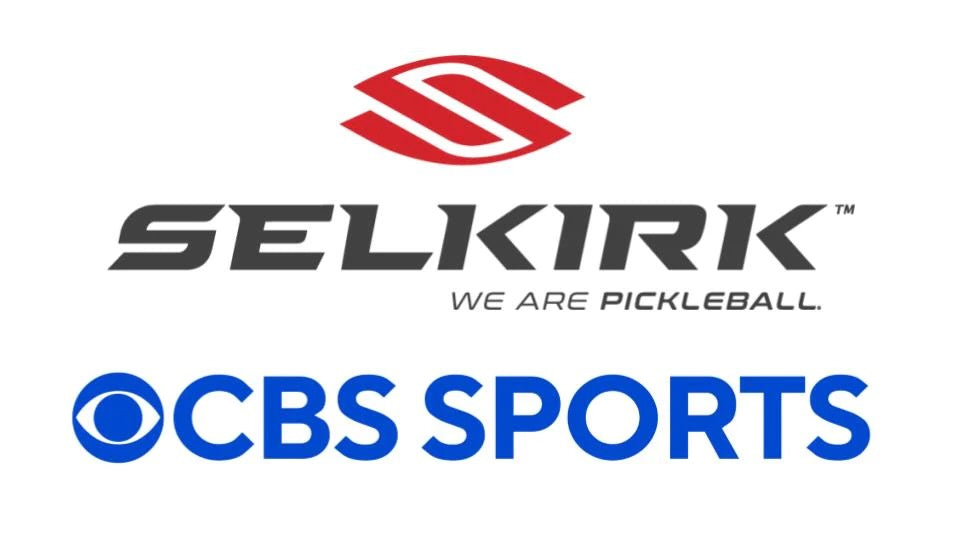 Hayden, Idaho — July 11, 2023 – Selkirk Sport, the industry-leading pickleball paddle manufacturer and brand, is excited to announce an agreement with CBS Sports to be the presenting sponsor for all Professional Pickleball Association (PPA) tournaments airing on the CBS Television Network, Paramount+ and CBS Sports Network. 
"Our presenting sponsor position with CBS Sports underlines our commitment to the sport," said Mike Barnes, Co-Founder and Co-CEO of Selkirk Sport. "We're thrilled to align ourselves with CBS Sports to help bring this dynamic sport to even more households, fostering the growth and vitality of the sport we love."
Throughout the five PPA tournaments covered in this agreement, viewers can expect to see several Selkirk commercials on the CBS Television Network, Paramount+ and CBS Sports Network. Each program will also include a branded feature known as the "Selkirk Play of the Day," as well as several other sponsor graphics and features to enhance viewer engagement.
The deal, a first-ever of its kind, exemplifies the rapid growth of pickleball as well as Selkirk and CBS Sports' leading positions in promoting the sport amidst its rise in popularity. 
For more information about Selkirk Sport, visit www.selkirk.com.
About Selkirk Sport
Selkirk Sport, a made-in-the-USA manufacturer of pickleball paddles and accessories, is a family-owned and operated company. Selkirk Sport is based in Hayden, Idaho, in the shadows of its namesake, the Selkirk mountain range. Founded in 2014, Selkirk Sport was born from a passion for sport and the great Western outdoor leisure lifestyle that was afforded to the company's founders, Rob and Mike Barnes, along with their father Jim, who is Selkirk's production manager. Backed by the philosophy of always pushing the limits, Selkirk Sport is committed to manufacturing products that deliver the highest performance with unmatched quality and service. As part of its early success, Selkirk Sport was the first pickleball manufacturer to offer an unprecedented lifetime warranty on its high-performance products. To meet the demands of the game's premier professionals, the company developed low-profile edge guards that are lightweight and extremely durable. Selkirk Sport has become one of the industry's fastest-growing companies, with paddles used by many of the game's premier players, such as Tyson McGuffin, Parris Todd, Dylan Frazier, Mary Brascia, Maggie Brascia, Wesley Gabrielsen, Cammy MacGregor, and a host of others premier players and national/regional champions. 
Media contacts: 
Kyle Whatnall: Kyle@selkirk.com
Brynn Grissom: Brynn@selkirk.com
About CBS Sports
CBS Sports, a year-round leader in cross-platform sports coverage, broadcasts a portfolio of events on the CBS Television Network, including THE NFL ON CBS; college football, including the SEC ON CBS and BIG TEN ON CBS; college basketball, including the NCAA Division I Men's Basketball Championship; golf, including The Masters®, PGA Championship and PGA TOUR; soccer, including the UEFA Champions League and NWSL; and CBS SPORTS SPECTACULAR. In addition, the division includes CBS Sports Network, the 24-hour cable home of CBS Sports which televises live sports programming throughout the year, including college football and basketball games, soccer matches from UEFA Champions League, UEFA Europa League, Serie A, Concacaf and NWSL, as well as a full slate of original programming and studio coverage. CBS Sports also delivers an extensive lineup of global soccer coverage on Paramount+, including every UEFA club competition match, all Serie A matches as well as Concacaf national team competitions. CBS Sports' multi-platform offerings include CBSSports.com and the CBS Sports apps for mobile and connected TV devices; the 24/7 streaming sports news network CBS SPORTS HQ; the free 24-hour soccer streaming network CBS SPORTS GOLAZO NETWORK; 247Sports; MaxPreps; CBS Sports fantasy games; and SportsLine.