< BACK TO PRESS PAGE
Selkirk Labs unveils the future of pickleball with the launch of Project 005 and Project 006 paddles
June 27, 2023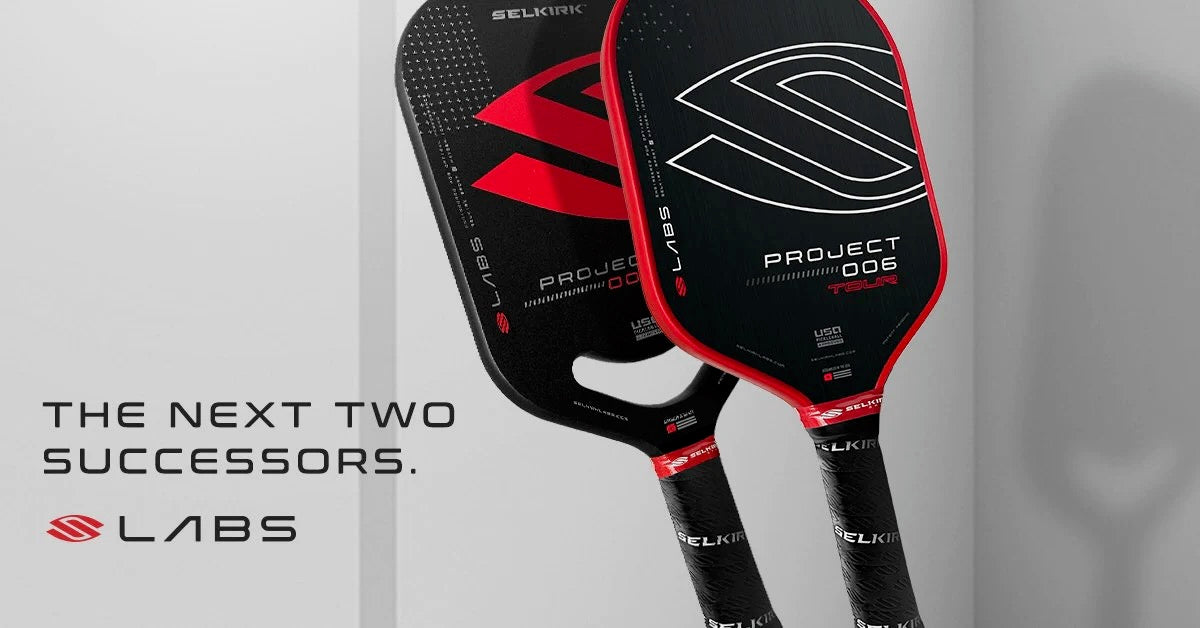 Innovation Meets Player Insights: The Unveiling of Selkirk Labs' New Paddle Designs.
Coeur d'Alene, Idaho – June 27, 2023 – Selkirk Labs, a pioneer in the consumer-powered design collaborative for pickleball equipment, proudly announces the launch of its latest innovation: The Selkirk Labs Project 005 and Project 006 paddles. Crafted with advanced technology, the two paddles represent the next generation of pickleball gear, incorporating valuable insights from players around the world.
"Our mission at Selkirk Labs is to elevate the player experience, and these two paddles are a testament to that," said Rob Barnes, Co-Founder and Co-CEO of Selkirk Sport. "We've taken the feedback and insights from the pickleball community and used it to fuel our Research & Development team's relentless pursuit of innovation, culminating in the creation of the Project 005 and Project 006 paddles."
PROJECT 005: THE FUTURE OF BALANCED POWER AND CONTROL PADDLES
Project 005 is the solution for players seeking the perfect balance between power and control. The edgeless, open-throat paddle infuses new FiberFlex+ Fiberglass Face and X5+ Honeycomb 16mm Core technology, promising more power and control for today's discerning pickleball player. The Project 005 paddle is available in three shape variations: Epic, S2, and Invikta.
The advancements in Project 005's design and technology cater to the increasing demand for more powerful paddles without compromising control. With unique features like the Air Dynamic Throat for quicker swing speed, ProSpin Texture for a consistent spin, and Aero-DuraEdge Edgeless Technology for increased durability and aerodynamics, the 005 paddle is setting a new standard in the pickleball world.
PROJECT 006: THE FUTURE OF RAW CARBON TECHNOLOGY
Project 006 is the premiere paddle designed for tour and tennis players seeking a larger sweet spot, solid feel, and enhanced spin. The paddle is pioneering the next generation of raw carbon paddles with its patent-pending MicroSpin Raw 12k Carbon Fiber, unique layering, and new Tour shape.
The meticulous fusion of Selkirk Labs' MicroSpin Raw 12k Carbon Fiber Texture and Omni-Tech Multi-Layer Carbon Fiber Face technologies has resulted in a raw carbon fiber paddle that is unrivaled in quality and performance. The paddle also introduces Selkirk's future Tour line, which features heavier paddles with unique technology tailored for advanced players.
The paddles will be available for purchase exclusively through Selkirk Labs. As Selkirk continues to leverage its consumer-powered design collaborative, the company is poised to set the industry benchmark, pushing the boundaries of what's possible in pickleball.
About Selkirk Labs
Selkirk Labs is the industry's first consumer-powered design collaborative for pickleball equipment. Introduced by Selkirk Sport in 2022, Selkirk Labs harnesses the insights of avid players to fuel its innovation in designing the next generation of pickleball paddles and accessories. The collaborative is committed to harnessing cutting-edge technology and real-world feedback to elevate the player's experience in the fast-growing sport of pickleball.
About Selkirk Sport
Selkirk Sport, a made-in-the-USA manufacturer of pickleball paddles and accessories, is a family-owned and operated company. Selkirk Sport is based in Hayden, Idaho, in the shadows of its namesake, the Selkirk mountain range. Founded in 2014, Selkirk Sport was born from a passion for sport and the great Western outdoor leisure lifestyle that was afforded to the company's founders, Rob and Mike Barnes, along with their father Jim, who is Selkirk's production manager. Backed by the philosophy of always pushing the limits, Selkirk Sport is committed to manufacturing products that deliver the highest performance with unmatched quality and service. As part of its early success, Selkirk Sport was the first pickleball manufacturer to offer an unprecedented lifetime warranty on its high-performance products. To meet the demands of the game's premier professionals, the company developed low-profile edge guards that are lightweight and extremely durable. Selkirk Sport has become one of the industry's fastest-growing companies, with paddles used by many of the game's premier players, such as Tyson McGuffin, Catherine Parenteau, Parris Todd, Dylan Frazier, Mary Brascia, Maggie Brascia, Wesley Gabrielsen, Cammy MacGregor, and a host of others premier players and national/regional champions.