How to Choose Your Perfect Pickleball Paddle: 10 Key Factors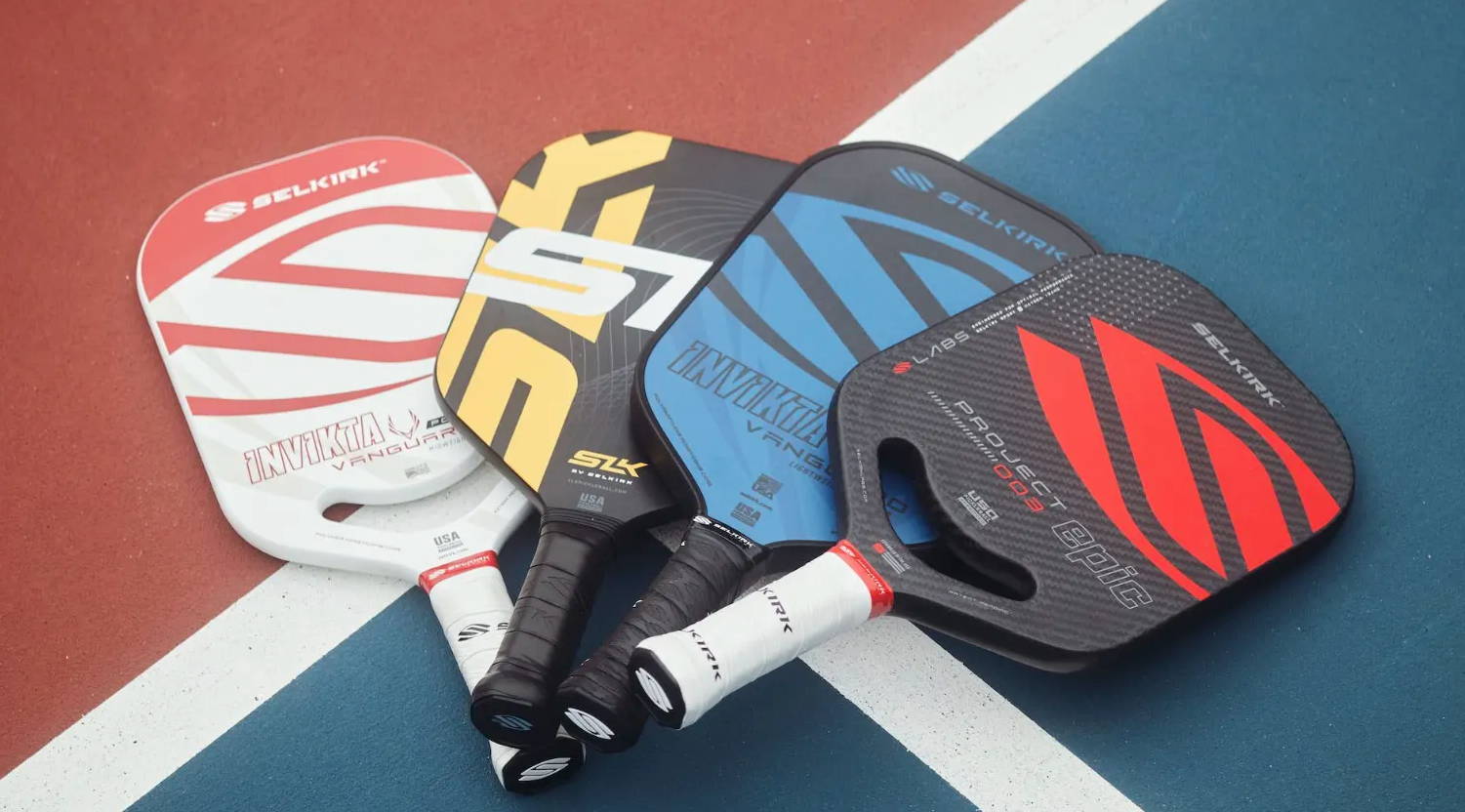 How to Choose Your Perfect Pickleball Paddle: 10 Key Factors


So you've found a great pickleball court near you, and you're ready to get playing. But first you need to choose the most important piece of gear—your pickleball paddle. Or maybe your skills have outgrown your beginner paddle and you want to upgrade to something more advanced?
Either way, it's time to do some research, as these days there are so many pickleball paddles to choose from.
You've come to the right place. We've done our homework and put together this guide explaining everything you need to keep in mind when choosing the perfect pickleball paddle.
But if you want the quick and easy answer, here are a couple of our top picks for different player types:
Resources

Overall best paddle for Tennis Players, Power, and Spin

The Ultimate Power and Spin Paddle, the Power Air is the preferred paddle of former tennis player and current top Pickleball Pro, Tyson McGuffin.

The most Aerodynamic Paddle we have produced, this edgeless design and ProSpin+ Texture gives you the effortless spin and power tennis players are accustomed to. And perhaps most importantly, the spin won't wear off after a month of play!

The Best Pickleball Paddles for:

Best paddle for Beginners

Similar to the Power Air, but without the air dynamic throat, the SLK Omega Max is the power and spin paddle for the everyday player.

If you affordability is the bottom line for you, the SLK Latittude is another affordable option at 59.99

Control Paddles are often refered to as having a "soft feel" and are ideal for players who value ball placement. The Vanguard 2.0 Paddles have insane touch, and the improved 2.0 texture improves the spin capability of the paddle.

Also, check out the AMPED Invikta which will have slightly more power and is $150. And the Project 003 paddle is the thickest core on the market at 20mm and is the ultimate control and spin paddle (The 003 is only available to Selkirk Labs Members).

How to Choose Your Perfect Pickleball Paddle


Do you know your pickleball rating? Even if you don't, you'll probably know whether you're a beginner, intermediate or advanced player. 
Knowing your skill level is crucial to picking the right pickleball paddle. A beginner paddle will have a larger sweet spot and offer more forgiveness on your shots. Advanced paddles are often built for power or control, and can require more skill to use effectively.
Choose a pickleball paddle that suits your skill level, but also gives you something to grow into as you advance your game.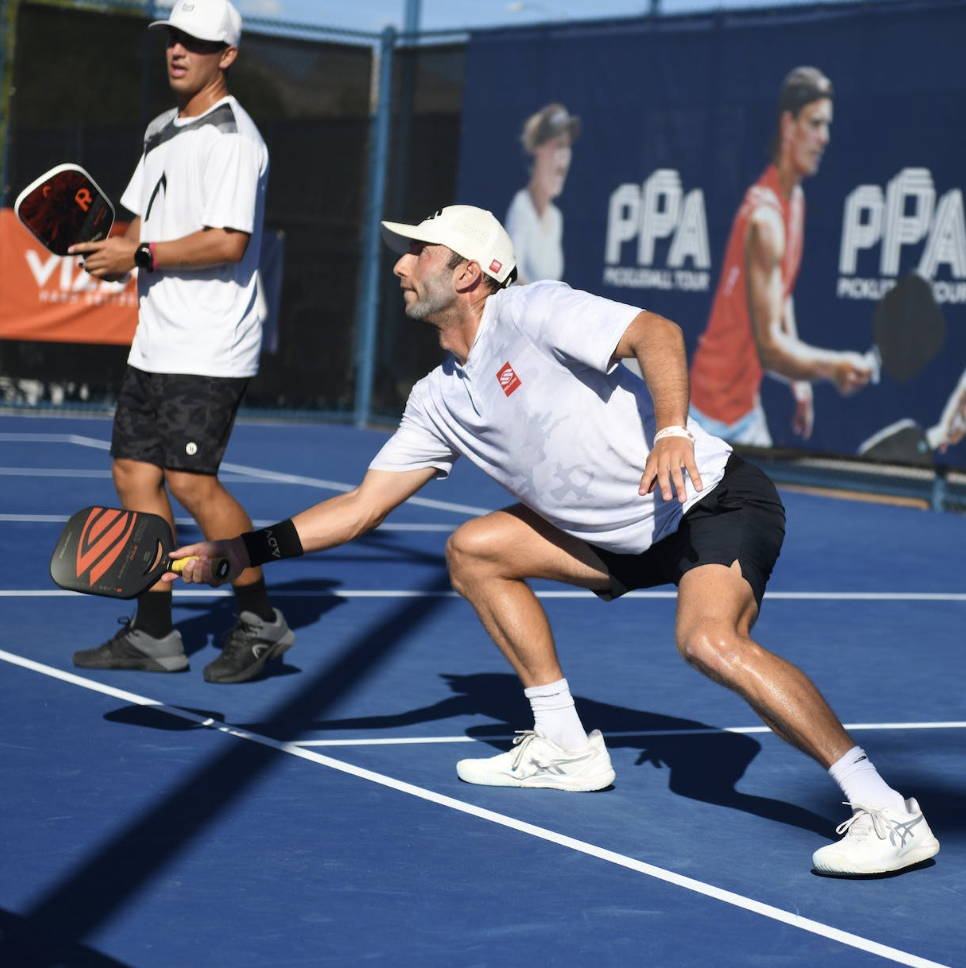 Now that you've assessed your pickleball skill level, take a closer look at your style of play. Which type of shots do you hit the most? What type of game do you usually play? Do you use spin strategically to challenge your opponents return capabilities? Then you should consider the texture of your paddle face, as this is where your spin is generated. Some paddles add grit to the paddle face, for example, for extra grip on the ball. 
Do you like to use your power to hit bangers? A heavier, longer paddle may suit you, as we'll discuss in the next section. Or are you a control player that values superior touch on your dinks? Then maybe a lighter, wider paddle will give you the touch you're looking for.
Think about your overall pickleball playing style, including those areas you'd like to improve, before choosing the perfect pickleball paddle. 
If you know your style of play, we've written specific articles for different play styles/levels:
The USAPA regulations state that the combined length and width of your pickleball paddle  (including any edge guard and butt cap) cannot exceed 24 inches (60.96 cm), and that the paddle length cannot exceed 17 inches (43.18 cm). This means that if a paddle is 16 inches long, it can be a maximum of 8 inches wide, whereas if a paddle is 17 inches long, it can only be 7 inches wide, to stay within the allowable total of 24 inches. 
Paddle size seriously affects performance. The longer the paddle, the harder you can hit the ball. The wider the paddle, the more likely you are to hit it, and the more maneuverability you'll have. The size of your paddle also affects the size of the 'sweet spot'—the area in the center of the paddle where the player gets the most accurate response from their shot. 
Are you confident of your aim, but looking for more power in your shots? Then choose a longer paddle. Likewise, if you want to make sure you hit a decent shot, and are looking to get the maximum amount of spin on the ball, then go for a wider paddle with a larger sweet spot. 
Pickleball paddles, like boxers, can be divided into weight divisions. The three classifications are:
Light-Weight - Under 7.2 ounces

Mid-Weight - 7.3 to 8.4 ounces

Heavyweight - 8.5 ounces and over
Different weights of pickleball paddles have different advantages. Light-weight paddles are great for giving you ultimate maneuverability and quick response time. Great for dinks and drop shots, a light-weight option might suit you if you've come to pickleball from playing ping-pong. The disadvantages are that you can't generate as much power in your shots, and that a lighter paddle will cause more vibrations in your arm and elbow, which may cause or exacerbate injuries. 
Mid-weight paddles are a happy medium when it comes to a balance between power and control. Most players in the intermediate range will choose this paddle weight, as they are the best all-round performers. 
Heavyweight paddles can range from 8.5 all the way up to 14 ounces. The heavier the paddle, the more force you can get behind the ball. Also, with a heavier pickleball paddle, you have to put in less effort into your swing to get a solid shot. The downside to a heavier paddle is that it gives you less control and maneuverability.  
If you're not sure which weight is best, we recommend a light or midweight paddle and experimenting with adding lead tape to find the right weight for you!
The longer the grip or handle size of your pickleball paddle, the more power and spin you can generate. However, as mentioned above, the combined length and width of your paddle cannot exceed 24 inches, so handle size is generally restricted to between 4.5 and 6 inches. A longer handle ultimately means a smaller paddle face, which leaves more room for error.
Some players occasionally like to use two hands on the handle, for example on backhand shots, so they'll want a bit more length on their handles. The Invikta and Epic Paddles have a "long" handle at 5.25" and the Mach6 (see photo) has an "extra long" handle at 5.875".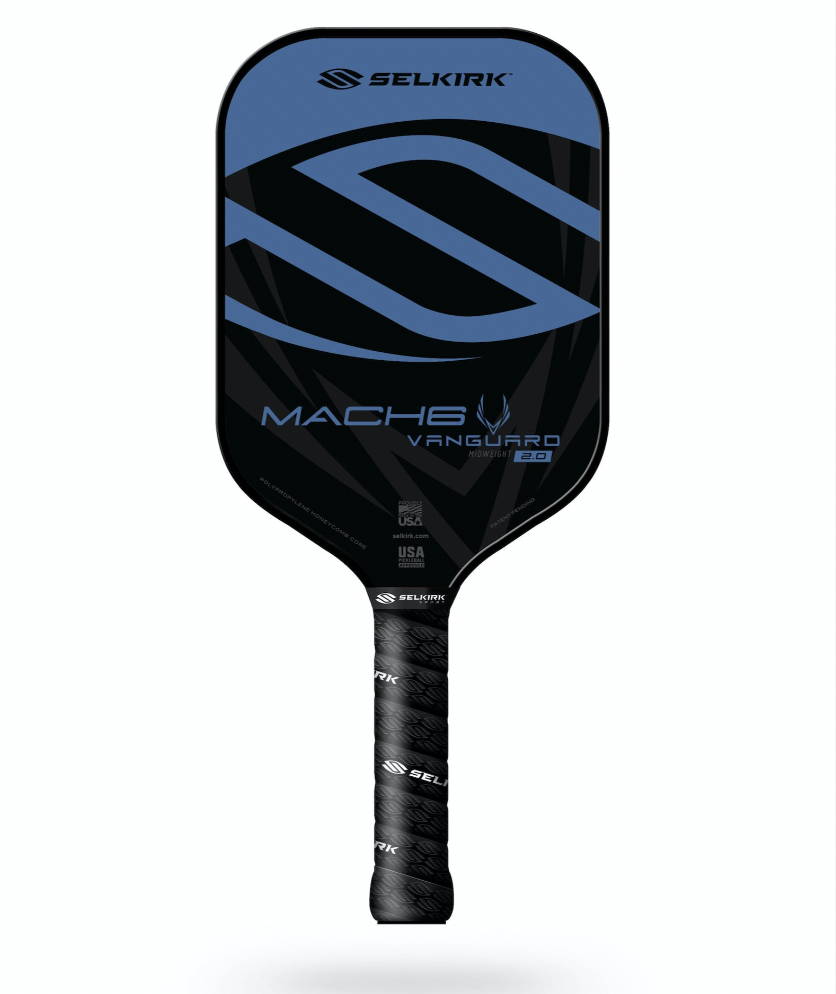 There are three materials used in the construction of pickleball paddles—wood, graphite and composite. Wood paddles are the heaviest and often the least expensive. They're fine for a beginner or occasional player. Graphite pickleball paddles are very strong but also light. They're the most expensive option, but the most popular among serious players, as they offer unrivaled action and durability. 
Composite paddles are a happy medium when it comes to price and performance. They're becoming more and more popular as their textured surface makes it easier to put spin on the ball. Composite pickleball paddles are made of a mixture of materials but will almost always use a carbon fiber or fiberglass face and a polymer core. And speaking of cores, here's the next important factor to keep in mind when choosing the perfect pickleball paddle… 
This is where things get a little technical. Unless you choose a wooden paddle, where the core is simply wood, your pickleball paddle core is usually made of either nomex, aluminum or polymer (polypropylene). Pickleball paddle cores are almost always made to resemble a honeycomb structure—a natural shape pattern which has been copied by man due to its incredible strength and lightness. 
What this core structure is made of depends on the paddle you choose. Polymer is the most popular material (it's essentially plastic) as it's strong and durable while being soft and flexible. Aluminum cores are for those who want a super light-weight offering. This lightness, though, seriously reduces the power of your shot. So, if you tend to overshoot your shots and go out of bounds a lot, this may be the core material for you. 
Nomex is a neat material that was the staple for pickleball paddle cores for decades. Nomex is hard, and that hardness creates power. Lots of power. Striking the ball with a nomex core feels solid and sturdy (and also loud!). This type of core has fallen in popularity over the years though , as polymer core's provide better consistency, durability, and control. 
When choosing any piece of sports equipment, quality and durability should be a priority. Read the reviews from people who've used the paddle in day-to-day pickleball sessions, and find out how the paddles stand up to the use and abuse of court life. 
Secondly, find out if your pickleball paddle comes with a warranty. Some manufacturers (including Selkirk) will even offer a limited lifetime warranty that covers workmanship and manufacturers defects. 
Last but certainly not least, pick a paddle within your budget. Unless you're a pro on the APP or PPA tour, then there's no need to blow a fortune on a pickleball paddle. But remember, you often get what you pay for when buying pickleball paddles.
Selkirk pickleball paddles are the brainchild of our pickleball-obsessed family, based here in Idaho. We're very proud to say that we are now one of America's most popular paddle makers.
We've quickly become market leaders due to a combination of cutting edge technology and our meticulous craftsmanship. Selkirk offers a huge range of sizes and styles and our paddles are used by everyone from beginners up to the highest ranked pro players in the country.
All of our paddles use the strong honeycomb core mentioned above, and we constantly evolve our designs through a dedicated program of research and development. All Selkirk paddles also come with an industry first limited lifetime warranty, guaranteeing their quality and durability.  
We're proud to say that the pros appreciate the quality of Selkirk's paddles. Tyson McGuffin, the current singles number one (PPA Tour Rankings) and Doubles Top 10 player uses our Selkirk Vanguard Power Air Invikta paddle.

The Last Word on Choosing Your Perfect Pickleball Paddle



We hope this article has shed some light on how to choose your perfect pickleball paddle, and given you an idea of the factors to keep in mind. Grip length, paddle weight and the materials used in paddle composition will all contribute to your pickleball performance, so it's crucial to know your stuff before you buy. 
Here is a great resource from Pro Pickleball Coach, Morgan Evans, on how to choose the perfect pickleball paddle for your game:
Do you have any top tips on choosing the perfect pickleball paddle? Or any questions about paddles and which one would suit you best? Reach out to us on social @selkirksport, we'd love to hear from you!
Brandon Mackie is the co-founder of Pickleheads™, a platform that helps players find courts, organize sessions, and connect with nearby players. Once a competitive tennis player, Brandon can be found these days honing his dinks on pickleball courts near Venice Beach, California.