< BACK TO PRESS PAGE
Selkirk Sport Debuts EVO 2.0 Paddle Series: Power, Control, and Hybrid Options for Every Player
May 09, 2023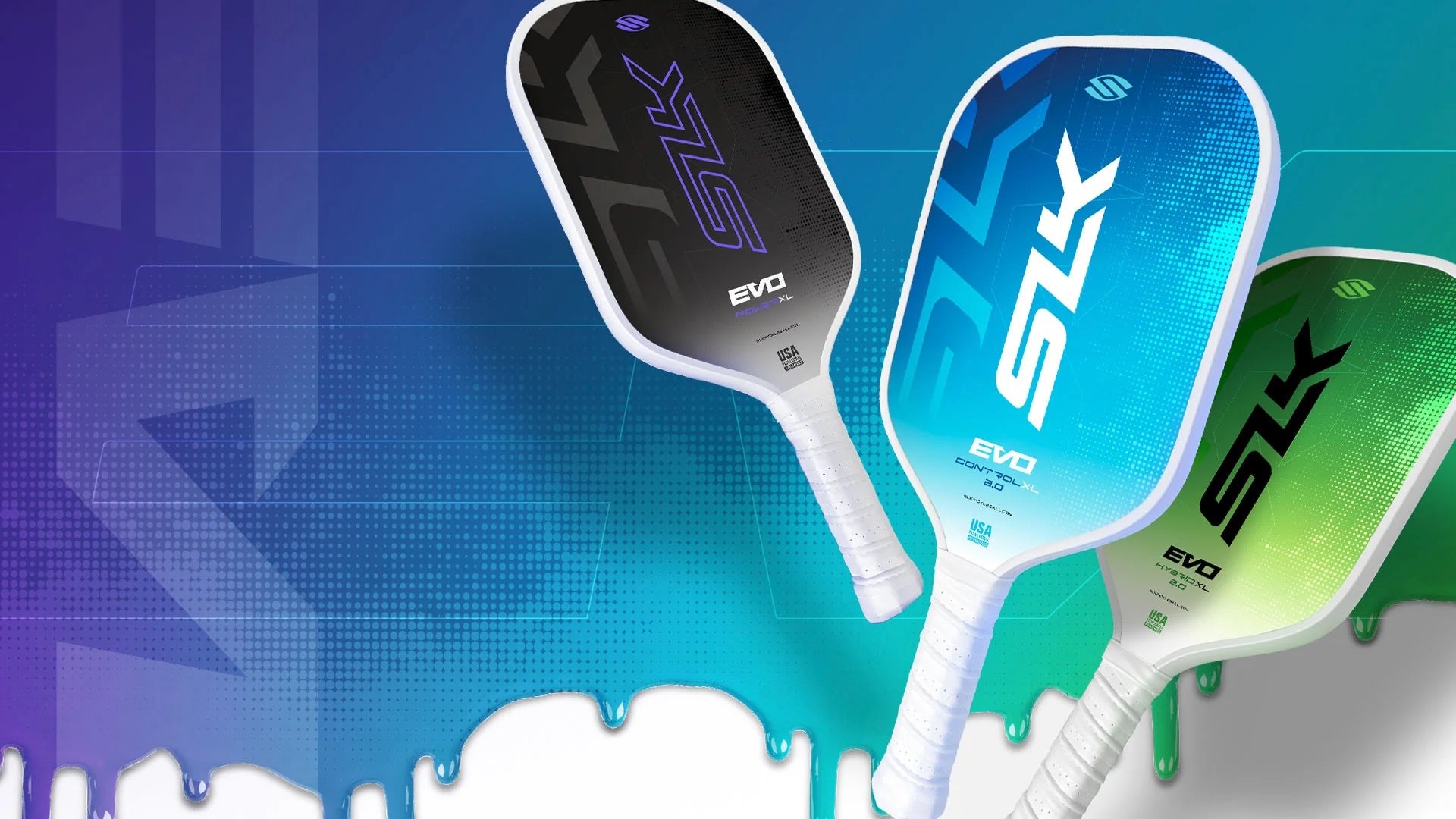 SLK by Selkirk's new EVO 2.0 paddle line brings three top-of-the-line paddle performance options, with excellent value for entry level and intermediate players.
May 9th, 2023 –Selkirk Sport, the leading brand in the rapidly growing sport of pickleball, proudly announces the launch of the groundbreaking SLK EVO 2.0 paddle series. This innovative line includes three paddle types designed to cater to a variety of player preferences: the EVO Power 2.0, the EVO Control 2.0, and the EVO Hybrid 2.0.
With the EVO 2.0 series, Selkirk Sport continues its commitment to innovation and excellence, offering an unparalleled playing experience for pickleball enthusiasts of all levels. The EVO 2.0 paddles have been meticulously crafted to provide the perfect blend of power, control, and comfort to optimize performance on the court.
Priced at $100, the EVO 2.0 paddles offer excellent value, making them an attractive choice for entry-level to intermediate players looking for a high-quality paddle at an affordable price.
The EVO Power 2.0, featuring a G9 Power Carbon Fiber face, is designed for players seeking a combination of unmatched power and spin-control. The 13mm Rev-Hybrid Polymer Core provides a large sweet spot for optimal power and precision. The innovative SpinFlex spin surface allows players to generate increased spin consistency and ball control, making it an excellent choice for tennis enthusiasts and newcomers to the sport.
The EVO Hybrid 2.0 is a versatile paddle that offers the perfect fusion of power and control. With its C7-Flex Hybrid Fiberglass face and the same SpinFlex spin surface, this paddle is ideal for beginner and advanced players alike. The 13mm Rev-Hybrid Polymer Core ensures consistency with every shot, while the EdgeSentry edge guard technology delivers a well-balanced and solid paddle that is suitable for a wide range of playing styles.
Engineered for players seeking superior control and a luxurious playing experience, the EVO Control 2.0 features a G8-Flex Control Carbon Fiber face for optimal control and a super-soft feel. The 16mm Rev-Control Polymer Core maximizes potential with a thicker core, softer feel, and powerful performance. The innovative SpinFlex spin surface enhances gameplay, providing increased spin consistency and ball control.
All EVO 2.0 paddles come equipped with EdgeSentry edge guard technology, the SLK Ultra-Comfort Grip, and two dynamic shapes: Max and XL, offering players a customized playing experience tailored to their preferences.
"We are extremely excited to introduce the EVO 2.0 paddle series, which is a testament to our dedication to providing the best possible playing experience for the pickleball community," said Mike Barnes, Co-CEO and Co-Founder of Selkirk Sport. "Our team has worked tirelessly to develop these paddles, and we are confident that they will redefine performance and value in the pickleball market, especially for entry-level to intermediate players, thanks to the competitive price point."
The EVO 2.0 paddle series is now available for purchase at www.selkirk.com. For more information on Selkirk Sport please visit www.selkirk.com and to follow the Company through social media, please visit Selkirk on Facebook, Twitter or Instagram @SelkirkSport.
About Selkirk Sport:
Selkirk Sport, a Made-in-the-USA Manufacturer of Pickleball paddles and accessories, is a family-owned and operated company based in Hayden, Idaho, located in the shadows of its namesake, the Selkirk mountain range. Founded in 2014, Selkirk Sport was born off a passion for sport, as well as the great western outdoor leisure lifestyle that was afforded to the Company's founders, Rob and Mike Barnes, along with their father Jim, who is Selkirk's production manager. Backed by the philosophy of always pushing the limits, Selkirk Sport is committed to manufacturing products that deliver the highest performance with unmatched quality and service. As part of their early success, Selkirk Sport was the very first Pickleball manufacturer to offer an unprecedented lifetime warranty on its high-performance products. And, to meet the demands of the game's premier professionals, the Company developed low-profile edgeguards that are lightweight and extremely durable. Selkirk Sport has become one of the industry's fastest growing companies with paddles used by many of the game's premier players, such as Tyson McGuffin, Parris Todd, Dylan Frazier, Mary Brascia, Maggie Brascia, Wesley Gabrielsen, Cammy MacGregor, and a host of others who are premier players and national/regional champions.
Media Contact:
Kyle Whatnall - Selkirk Sport Public Relations - kyle@selkirk.com Ari Edelman - Mastro Communications - aedelman@mastrocomm.com